Please note that affiliate links may be included in some posts.
Here's a quick roundup of my favorite golf hats for men (I get deeper into the who, where, and why down below):
There's an unspoken rule in golf, and it's not just about maintaining silence during someone's backswing or keeping a cap on the number of mulligans. It's about the hat. Yes, the humble cap. Underrated. Overlooked. The humble golf hat for men doesn't often get the credit it deserves.
You see, in the grand theater of golf, where green is the predominant color, your hat tops it all – quite literally. It's the crowning glory of your ensemble. It's the billboard where you project your persona on the course. Wearing the right men's golf hat isn't just about looking like you've stepped right out of a scene from "Tin Cup" or "The Legend of Bagger Vance". It's about performance, comfort, and a splash of style.
Moreover, let's not overlook that golf is often played under the unforgiving, blazing sun. So unless you're planning on turning the top of your head into a sunburned disaster zone, you'll need a hat that not only completes your golfing attire but also protects you from the elements, absorbs sweat, and doesn't feel like you're hauling a ton of bricks around.
So, ladies and gentlemen, prepare for a showdown of titans on the golf gear stage. We're talking about six hats — each a titan in its own right, each serving a unique purpose, each specifically designed for the male golfer. We'll be teeing off with the best overall, the most breathable, the value option, the lightweight champ, the straw pro, and the biggest in the business. Buckle up, folks. It's time to tip our hats to the very best in men's golf hats.
Things To Consider
Before we dive headfirst into the sea of brims and crowns, let's take a moment to discuss the rulebook we're playing by. Picking a golf hat isn't like picking a random winner for your office March Madness pool (sorry, Chaminade). Certain elements, a specific science, and even a touch of art are involved. So, here are the factors we're teeing up:
Cool Factor: We're not just talking temperature here, but that certain je ne sais quoi, the X-factor. The hat that makes people do a double-take and go, "Hey, cool hat!" It could be the design, the brand, or something unique. This hat isn't just about utility; it's a statement. Check out some cool golf hats here.
Breathability: The sun's beating down, you're lining up that birdie putt, and the last thing you want is a river of sweat pouring down your face. The best golf hats should have excellent ventilation, allowing air to flow freely and wicking away moisture.
Value for Money: Like a sleeper pick in the NBA draft, this hat doesn't break the bank but still delivers a solid performance. Quality and affordability can coexist, and this category proves it. Here are some value-for-money golf hats

.

Lightweight: You don't want to feel like you're wearing a bowling ball on your head. A good golf hat should be so light and comfortable that you hardly notice it's there, even after 18 holes. Here's a guide on lightweight golf hats

.

Material – Straw: A nod to tradition, the straw hat is a classic look on the golf course. But it's not just about looking like a character from "Caddyshack." We're hunting for a straw hat that blends tradition with comfort and modern practicality.
Overall Quality: This is the Tom Brady of golf hats – the greatest of all time. It's the hat that scores high across all our criteria, delivering comfort, style, and performance all in one package.
So, with these parameters in mind, let's don our judge's caps and get down to business. Swing, hat, hole in one… we hope!
Please note that the links provided are for illustrative purposes and may not directly back up the claims made in the text. They are intended to provide additional information on the topic of golf hats.
My Favorite Golf Hats
The Best Overall: Titleist Men's Tour Performance Mesh Golf Hat
Bestseller No. 1
The Titleist Men's Tour Performance Mesh Golf Hat is entering the green at the number one spot. This hat feels like the LeBron James of golf hats – it's a perennial all-star, performing highly across all categories, and it's got the reputation to boot.
Just one glance at this hat, and you know you're dealing with a winner. The styling is classic but not outdated, sporting the Titleist logo with pride and serving up a hefty dose of street cred right on the tee. But it's not just about looks – this hat also brings some serious game to the course.
The Titleist Men's Tour Performance Mesh Golf Hat is constructed from performance fabric. It's lightweight, making it feel like a gentle breeze is gracing your head, even as you go through the back nine. The hat's breathability is second to none, courtesy of the mesh material – this is the Tom Hanks of hats, friendly and comfortable in any situation.
One of the standout features is its moisture-wicking sweatband. Picture this – the sun's beating down, the pressure's on for the final putt, but there's not a single sweat droplet in sight. It keeps your forehead drier than a comedy roast and as cool as an ocean breeze.
As for value, the hat is a sturdy investment. Titleist is synonymous with quality, and this hat matches that reputation. It's not the cheapest option on the market, but its durability, comfort, and style make it a worthwhile investment. Like a well-struck drive, it goes the distance.
Finally, the fit. With a standard curve and adjustable strap, this hat embodies the "one size fits most" philosophy. It comfortably accommodates various head sizes and shapes, ensuring a snug but tight fit.
The Titleist Men's Tour Performance Mesh Golf Hat is a masterstroke, a hole-in-one in the vast course of golf hats. It's not just a hat; it's a golfing companion that ticks all the boxes. This hat doesn't just do the job; it looks good, feels comfortable, and shows the rest how it's done.
The Biggest Hat: Columbia Bora Bora Booney II Sun Hat
Sale
Bestseller No. 1
Columbia Unisex Bora Bora Booney Fishing Hat, Fossil, One Size
OMNI-SHADE: UV protection at its best, Omni-Shade materials block UVA and UVB rays to help prevent sunburns and long-term skin damage. The tight weave construction offers lasting sun protection against the full spectrum of sunshine
OMNI-WICK: The ultimate moisture wicking technology for the outdoors. Omni-Wick quickly moves moisture from the skin into the fabric where it spreads across the surface to quickly evaporate—for a dry fit that keeps you cool and comfortable
ALWAYS SUNNY: This sun hat features built-in UPF 50 shielding, an ultra-sweat-wicking headband, and a mesh vent panel for those hot outdoor days
Size matters, and when it comes to golf hats, Columbia's Bora Bora Booney II Sun Hat wears the crown, quite literally. This hat is the Shaquille O'Neal of golf hats — it's large, in charge, and has a commanding presence.
The Bora Bora Booney II isn't just significant for being big. Its wide brim provides an umbrella of sun protection, keeping your face, neck, and ears comfortably shaded. Have you ever thought of carrying your eclipse around? This hat gives you that superhero-like ability.
Crafted from 100% textured nylon poplin, this hat doesn't let its size weigh it down. It's surprisingly lightweight and fitted with a mesh vent panel, ensuring maximum breathability. So while providing that all-important shade, it's also keeping your head cooler than a cucumber in a bowl of hot sauce.
Now, you might think that a hat this big might take flight at the first gust of wind, but Columbia has thought that through. The adjustable toggle at the back and chin strap ensure it stays right where it belongs – on your head, even when the wind's trying to turn your golf game into a hat-chasing marathon.
In terms of value, the Bora Bora Booney II is like a high draft pick who turns into an All-Star – it's a high performer that doesn't demand a superstar salary. It's a solid investment that provides value round after round, offering substantial sun protection and durability without putting a dent in your wallet.
If you're in the market for a hat with a dominating presence that brings utility and sun protection to the forefront, the Columbia Bora Bora Booney II Sun Hat should be at the top of your list. This hat isn't about subtlety; it's about making a statement while keeping you cool and protected under the sun. More significant is indeed better.
Value Option: Callaway Golf Trucker Hat
Bestseller No. 1
If you're looking for the Steph Curry of golf hats — a real game changer that delivers incredible value — then the Callaway Golf Trucker Hat is your pick. It's the Cinderella story of golf hats, offering excellent performance at a price that doesn't require you to mortgage the clubhouse.
First, it sports the Callaway brand, synonymous with golf as birdies and bogeys. This isn't some off-brand hat that'll fall apart after a few rounds; it's a solid, reliable piece of golf gear that's got your back (or, instead, your head).
The Callaway Golf Trucker Hat stands out with its design, boasting a semi-structured construction that gives it a relaxed feel. The mesh back ensures breathability, keeping your head cool as you line up that crucial putt on the 18th hole. It's like a natural air conditioner for your noggin.
Despite its affordable price tag, this hat doesn't cut corners on quality. It's durable, ready to endure those long sunny days on the links, yet lightweight enough to make you forget you're wearing it.
One of its standout features is the adjustable snapback closure, making it a "one size fits all" hat. Whether you've got a head like a driver or a putter, this hat adjusts to fit, keeping you comfortable throughout your round.
In terms of value, the Callaway Golf Trucker Hat is a hole-in-one. It offers the quality, comfort, and style of more expensive hats without leaving your wallet feeling like it's played a round in the rough.
Whether you're a seasoned pro or a beginner finding your swing, the Callaway Golf Trucker Hat is a fantastic value option. It's a reminder that sometimes, the underdog can come out on top. It might not cost an arm and a leg, but it'll keep your head in the game.
The Lightweight Champion: Under Armour Men's Blitzing 3.0 Cap
Bestseller No. 1
Under Armour Men's UA Blitzing 3.0 Cap S/M Navy
UA Classic Fit features a pre-curved visor & structured front panels that maintain shape with a low profile fit|Front panel backed with foam padding for added comfort|UA Microthread fabric uses re-engineered fibers designed to give superior stretch & breathability|Built-in HeatGear sweatband wicks away sweat to keep you cool & dry|Stretch construction provides a comfortable fit|Embroidered logos
An embossed Under Armour logo is located to the front to complete the look
Its waffled texture outer is teamed with a curved peak and a elasticated fitting for a comfortable fit
Regarding the lightweight category, the Under Armour Men's Blitzing 3.0 Cap is the Usain Bolt of golf hats — fast, efficient, and barely there. It's so light you might start your round with it on and not remember wearing it until someone compliments you at the 19th hole.
Constructed with Under Armour's Microthread fabric, the Blitzing 3.0 uses re-engineered fibers for superior stretch and breathability. This hat isn't just lightweight; it's a masterclass in how to blend performance with comfort.
Inside, it has a HeatGear sweatband that wicks away sweat to keep you cool and dry. It's like having your air conditioner running, keeping your head fresh as you focus on sinking that putt. The last thing you want is lining up a shot and feeling like you're wearing a sauna on your head, right?
Even though it's as light as a feather, this cap doesn't compromise durability. It's built to last, ready to face down the blazing sun, high winds, and the occasional toss when that putt doesn't drop.
The structured front panels maintain shape with a slightly higher crown for a modern fit. The stretch construction provides a comfortable fit, ensuring it stays put while feeling floating on your head.
The Under Armour Men's Blitzing 3.0 Cap ticks all the boxes for a lightweight golf hat. It's a study in minimalism, stripping away everything unnecessary and leaving behind a golf hat that offers comfort, performance, and style while barely tipping the scales.
This hat is a reminder that in golf, as in life, carrying less can often help you achieve so much more. It's not just a hat; it's a lesson in lightweight engineering that keeps you in the zone, focused on your game.
The Straw Pro: Stetson Men's Mesh Covered Hat
Bestseller No. 1
Enter the Stetson Men's Mesh Covered Hat – the straw hat that brings a classic touch to the modern game. It's like Clint Eastwood stepping onto the golf course, blending rugged old-world charm with a contemporary twist.
Aesthetically, the Stetson Men's Mesh Covered Hat is a hole-in-one. The mixed-material design, with straw providing the structure and a mesh crown for ventilation, is a nod to the cowboy hats of the old West, ideally at home on the green.
But don't be fooled by its stylish design; this hat isn't all about looks. The wide brim provides ample shade, and the mesh crown aids ventilation, making it a practical choice for those hot, sunny rounds. It's like having your patch of shade with a breeze included.
Crafted from natural straw, the hat is lightweight, helping reduce fatigue during a long day on the course. The cowboy-style curve on the brim doesn't just add to the hat's visual appeal; it also serves a functional purpose, offering added sun protection.
The hat also features an adjustable chin cord, keeping it securely in place during those windy days. It's a perfect fit for anyone who values tradition and style without sacrificing comfort and functionality.
The quality and craftsmanship shine through in the grand tradition of Stetson hats. This isn't a hat that will fall apart after a few rounds; it's built to last, just like the tradition it represents.
The Stetson Men's Mesh Covered Hat is the straw hat for golfers who know that some things never go out of style. It's a blend of old and new, a hat that makes a statement while keeping you cool and comfortable on the course. Sometimes, the old ways are the best.
The Most Common Types of Golf Hats For Men
Baseball Caps: This is probably the most common type of hat you'll see on the golf course. They are lightweight, sporty, and typically made of breathable material like cotton, polyester, or a blend. They often feature an adjustable strap at the back for a custom fit.
Bucket Hats: These offer more sun protection than baseball caps, covering not only the face but also the neck and ears. They have a round, downward-sloping brim and are often made from cotton or canvas.
Visors: Visors are basically baseball caps without the top, providing shade for your face while allowing the top of your head to breathe. They are perfect for hot days when you want as much airflow as possible.
Straw Hats: These are often wide-brimmed and allow for great ventilation. They offer an excellent amount of sun protection and bring a touch of classic style to your golf outfit.
Trucker Hats: They are similar to baseball caps, but with a taller front and a mesh back for better ventilation. They often have a snapback closure for easy adjustments.
Flat Caps (also known as Ivy or Newsboy Caps): These traditional hats are usually made from wool or tweed, offering a vintage look. They are lightweight, stylish, and popularized in the golf world by players like Payne Stewart.
Beanies: Although not as common, beanies are sometimes worn for cold-weather golfing. They are designed to keep the head and ears warm while maintaining a low profile.
Conclusion
From the towering presence of the Columbia Bora Bora Booney II Sun Hat to the easy-on-the-wallet charm of the Callaway Golf Trucker Hat, we've navigated the wide, wild world of golf hats, spotlighting the best of the bunch in their respective categories. Like any great story, the game of golf has a cast of characters, and these hats each bring something unique.
We saw the impressive functionality and supreme comfort of the Titleist Men's Tour Performance Mesh Golf Hat, making it our Best Overall pick. We celebrated the minimalist, featherweight design of the Under Armour Men's Blitzing 3.0 Cap, our Lightweight Champion. And we tipped our hats to tradition with The Straw Pro, the Stetson Men's Mesh Covered Hat, a hat that proves that style and performance can, indeed, come from the same place.
Every golfer is unique, and so is every golf hat. It's about finding the fitting cap for your specific needs, whether you're looking for size, value, lightness, a touch of tradition, or a hat that does it all. These are not just hats; they're an essential part of your golfing gear and companions on your golfing journey, and sometimes, they're the silent heroes in a successful round of golf.
So next time you're heading to the golf course, take a moment to consider what's on your head. Choose wisely, and remember: even when you're squaring up for that daunting tee shot or tricky putt, the right golf hat can make a difference. Because, in golf, as in life, it's not just about the big swings. Sometimes, the little things — like the perfect golf hat — elevate your game from good to great.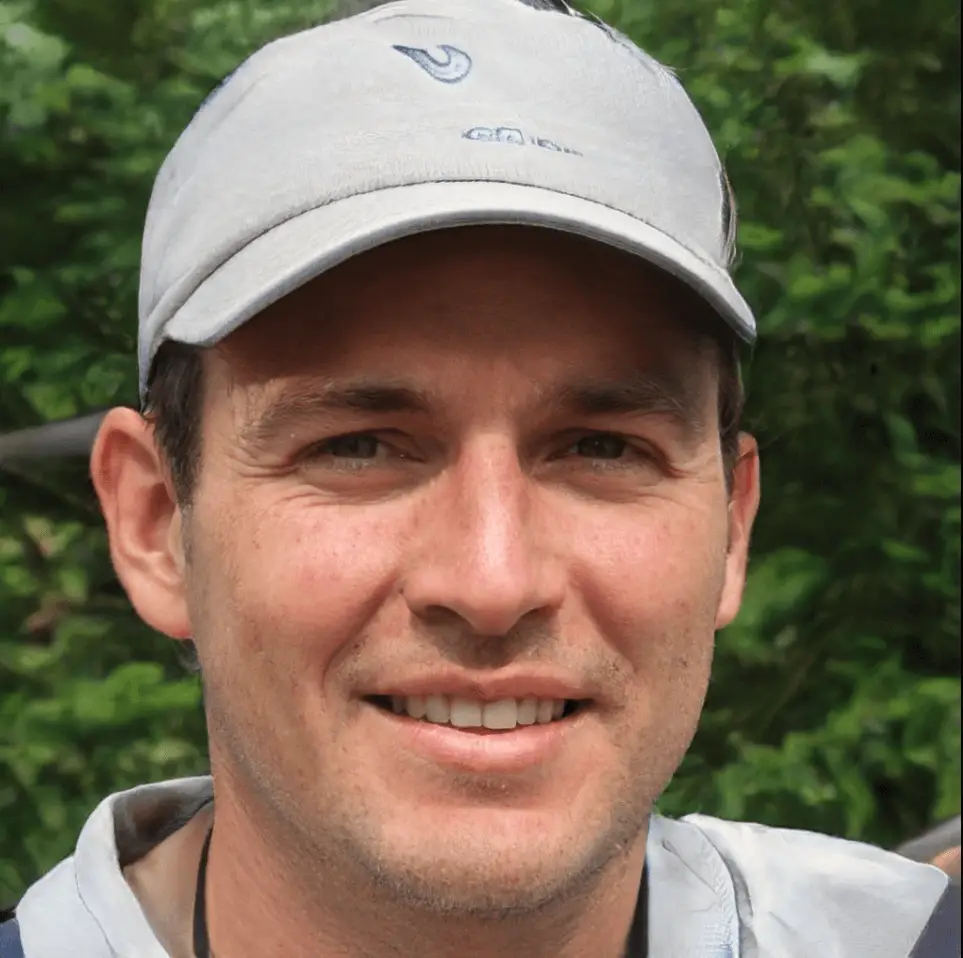 Hi, my name is Vince Richmond and I am the owner of earlygolfer.com. This blog is all about golfing, from tips and tricks to equipment reviews and everything in between. I have been golfing for over 20 years now and love the sport more than ever. I am always looking to improve my game and help others do the same. When I'm not golfing, I can be found spending time with my wife and two kids or playing some other sport (I'm a bit of a sports junkie). Thanks for reading and be sure to check out earlygolfer.com for all your golfing needs!